A5 Memobottle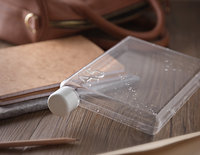 Stock information
: $45

.00

(AUD)

: Memobottle
: Memobottle
: 702785166093
:
:
:
:
:
:
: 39.0
:
: gifts
702785166093
Description
The memobottle™ was born from two main frustrations that the creators (Jesse Leeworthy & Jonathan Byrt) saw in society whist growing up together in a small coastal town south of Melbourne, Australia.
As youngsters they were constantly spending time at the beach/outdoors and noticed an increasing number of plastic water bottles being washed ashore at local beaches and waterways. The two decided to look into the environmental issue a little further.
Initially they had no idea how large this problem was. They couldn't comprehend how in a country that provides such clean and accessible drinking water; people would still buy single-use water bottles - paying over 1400 times more than perfectly drinkable tap water.